Well, Well, Well! Here I am again....
I have been doing a TON of thinking about my journey and how it plays into my life. The truth is, I am super busy right now. I haven't been tracking daily on SparkPeople. I still weigh about the same as I have for the past year. Would I like to get out of the 120's? Yes! Do I still feel I HAVE to weigh 109? No! My body is pretty small right now. Well, everywhere but the abs/love handles. The number is messing with my head a little, but that has to stop.
All of this weight thinking HAS. TO. STOP. NOW!
I am currently a size 4(27). I would like to get into a size 2(26). I am really close, but my tummy region needs some help!
Enter this gorgeous woman!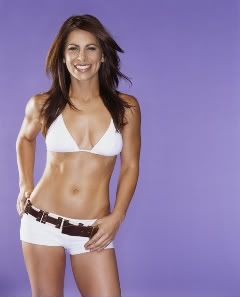 I am going to let Miss Michaels help a girl out! I did the 30 day shred for about 10 days or so a while back and then quit, but a few days after I quit, I noticed that my arms looked great...and so did my legs, butt and abs. Damn! Why did I quit? I stopped making it my priority to get it done. I got bored.
But...
I caught "The Shred" fever again and this time I decided to combat the boredom with some Pandora and used the power of the "MUTE" button.
Tonight, I am going to have my lovely man take measurements and "before" photos! I will start the DVD tonight. We'll see what the next 30 days bring.
In other news.....
Today's food & workout looks great so far!
Workout: 10 Minute Elliptical warm up. 8x400 at 5k pace speed work.
Breakfast: Cinnamon Raisin English Muffin with Protein Smoothie(1/2 banana, 1/2 cup blueberries, 2 handfuls spinach, 1 scoop low carb protein powder and water)
Snack: 1/2 of banana leftover from smoothie.
Lunch: Turkey Sandwich(Low Sodium Turkey, Light Mayo, Honey Mustard, Arnold Sandwich Thin, Cheese), Pirate's Booty BARRRRRRBecue
Snack: Honey Crisp Apple with PB
Dinner: TBD
Goal of the Day
: Take photos and start "The Shred"!
How are y'all doing?
Have you ever done the "30 Day Shred" before? Results?
How do you keep calm when you have a hectic schedule?